Inadvertently, I began training for the Eugene Marathon in August 2011. I was merely trying to get my feet back under me. I had grown fat and sloth-like. Desperate to lose weight and improve my mental and physical health, unbeknownst to me, I started down a life altering path.
Now, perhaps you have already perused my post on
running
. In mid February, my best friend Craig and I decided to begin training for the Eugene Marathon. Aforementioned, he had already run in some half marathons and was not only eager for a new challenge, but keen on sharing an awesome experience with me. I was capable of running around twelve miles at the time, and also relished the thought of spending some quality time with Craig. Additionally, it's not as if we were totally starting from scratch. This prompted us to think about the potential reality of adding an additional fourteen miles to a single run in two months time. We figured we'd see how training went and if we hit appropriate benchmarks along the way, we'd run it.
The Eugene Marathon means a lot to me. After finding so much purpose and passion within running, I feel honored to have honed this ability in Eugene, aka Tracktown USA. Literally, following in the footsteps of some of the worlds best runners is completely humbling and motivating.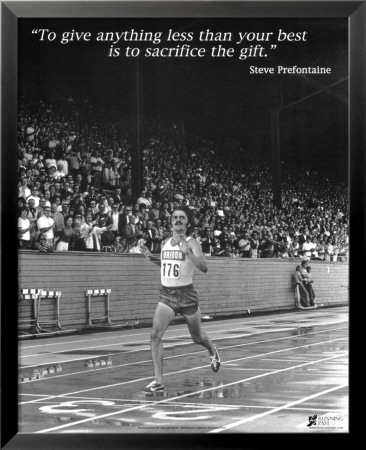 Could not be more true. Thank you, Pre.
Alas, April 29th. The big day. Craig and I had trained so hard, strengthening our friendship even more than our legs, and were excited to demonstrate our abilities. Butterflies abound, but we attempted to let cooler heads prevail. "Let's run our race." We didn't want to get sucked up into the excitement. We knew our 8:30/mile pace should be sufficient to meet our goal times. Even then, we just wanted to finish, and time was allegedly on the backburner.
"We'll do this smart- Keep our pace, be injury free, have fun. Caballo Blanco said it best- easy, smooth, light."
Oooooh boy, hah.
We identified the 3:35 pacer and thought, completely contrary to everything I just stated here and two months of conversations about running our race, "Hey, let's follow him. Maybe even aim to beat him and be sub 3:30."
How we decided to throw away that much training and planning in seconds is completely beyond me.
The race starts and we're away! We stay true to our word for the first few miles and keep the pacer within sight, but aren't killing ourselves to do so. Also, if you're ever in need of free, albeit used, running gear, follow behind marathon runners on an ambiguous weather day. It was cloudy and forty eight degrees at start, with an expected temperature increase to fifty seven by 11:00 am, and people were shedding and throwing their clothes onto garbage cans, yards, cars, etc. within the first two miles.
I digress. Craig and I were our usual selves- We were chatting with other marathoners, cheering the crowd on (to get them to cheer us on), making quips, and having fun. You can't dedicate yourself to running twenty six point two miles without having fun. It's just impossible. We had a number of other people thank us, noting our ability to incite the audience and leech energy from the cheers. One even noted, "You guys are working twice as hard; I love running behind you!" We just thought it was a blast and wanted to help others out.
Over the first eight or so miles, our splits were way below our aimed 8:30 at 8:08 or so. To say red flags should have been noted is an understatement. It should have been a full blown fucking alarm. We were crusin'. Loving every moment, having a great time, doing what humans were born to do- run. We passed the 3:35 pacer and "even though time didn't matter," it did. We loved our progress and come Hell or high water, we were going to keep it. As we were looping back past historic Hayward Field, I felt like our pace had quickened considerably, so I asked Craig what our mile nine split was. The dialogue went exactly as follows:
"Hmm, what was that last split?"
"<nervous laugh> Um... 7:55."
"Oh SHIT."
But we don't stop. We cut it back a bit again to our 8:08 pace, but not our gameplanned 8:30. We tear up the worst part of the run through Springfield and cross the halfway point at one hour forty seven minutes, maintaining a 8:05 pace for the first half of the marathon, only five minutes off my half marathon personal best... and with thirteen more miles to cover. We were just loving our pace and feeling great.
Mile seventeen rolls around and I ask Craig, "Hey, how you doin'?" I had noticed that the both of us had pretty quickly backed off the horseplay and crowd interactions and I had become a little concerned. Additionally, I felt as if my pace was backing off and he was having to run down to me, and I felt bad. "This sucks," is Craig's response. While I felt some relief to hear that it wasn't only me who was struggling some, I noted that there was certainly no high water, and this was definitely Hell.
We were both miserable. Around mile eighteen, the question of walking was posed. I was opposed to the idea, but could not see us running for another eight consecutive miles without stopping. We relented, and thus began a monumental cascading downward of our pace. By mile twenty, our pace had dropped seventeen seconds to 8:22 (which is still decently impressive if you ask me). We were thoroughly destroyed and it was hard to even imagine finishing at this point. Mile twenty two came, and I distinctly remember thinking that an additional four point two miles might as well be another full marathon. This was devastating.
Just beyond mile twenty three, some awesome dudes were offering shots of free beer! It perked me up in the moment and I cut across the path to take advantage. After spilling a majority of it on my face and hand, I got some down and felt energized. This feeling faded after no more than a half mile, yielding to nausea, a topsy-turvy stomach, farting, and a general desire to die. It's laughable how poor this decision was. I should always remind myself: If Craig doesn't do it, I probably shouldn't either. I'm positive there are innumerable times in my life that I could have applied this rule and been better off because of it.
3:45 pacer passes us and, at this point, we just don't care. Finishing, and running together, was our only goal at this point. My legs were so tight, I could barely bend them. I looked like a damn robot. Poor Craig had his calf cramp on him at mile twenty five and we stopped altogether to stretch it out. "We're doing this together and not to injure ourselves. Take your time." I'm sure he had slowed down for me at some point and now I was just paying it forward. Running without the other was never an option.
While we hit mile twenty six and knew that the last "sprint" towards Hayward was all that remained between us and our first marathon, it was crippling. It felt like forever. Even the thought about finishing, on historic Hayward no less, could not push our legs any quicker.
Three hours and fifty two minutes later, at 8:55 splits and with plenty of support from both Craig's and my families, we crossed the finish line. We were blindly herded through the end of the race to obtain our bounty of medals, chocolate milk, pancakes, and strange reflective capes.
She knows what's up.
We did it. Craig and I laughed at how ridiculously we performed, but were still proud of the culmination of two hard months of training and completing something together that less than one percent of Americans have accomplished. More, we had grown closer, and in my opinion, became better people for it.
Lynette, Craig's wife, asked immediately after we finished if we would want to do another, asking us to disregard any bias and answer in the moment. Feeling like total shit, we of course both barked an emphatic "No." However, we both knew how stupidly we ran and couldn't help but think we left a lot of potential performance on the racetrack and didn't need to verbalize it to the other to know the other was thinking it. But isn't that life? We make mistakes. Hopefully we learn from them. We apply our lessons and be better the next time.
Yes. There will be a next time.
Oh, what was the hardest thing about the day, you might ask? I dropped my pancake fork on the ground and let out a completely defeated sigh. Figuring out a way to get to the ground to pick it up was agonizing. Actually completing the task was nigh impossible. Doubt I have ever eaten a better pancake, regardless of the fact it made me want to yak.